Family Ties

by Stephie Walls
on June 22nd, 2018


I received this book for free from in exchange for an honest review. This does not affect my opinion of the book or the content of my review.
With a history like ours, the meaning of the word family tended to tangle into something unrecognizable. DNA and bloodlines didn't tie us together, and neither did our last names. Various shades of grey blurred the branches of our twisted family tree.

I wasn't her brother.
They weren't my parents.
Not that it mattered…

She was off limits.

Portia was my friend.
Then my foster sister.
And she'd always be the love of my life.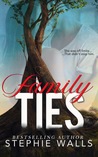 Family Ties by Stephie Walls
My rating: 5 of 5 stars
Stephie Walls never ceases to amaze me. Every story is completely different then the last. There's no formula employed here, no two characters are alike and no two storylines anywhere near the same. I'll admit I haven't read all of her library but every book inspires me to take a dedicated Stephie Walls book club vacation. Probably near a beach.
Family Ties is truly astounding. The plight of Jude and Portia, their forbidden love, is so unique. Sure there's a "sister"/"brother" element but don't let that keep you away from this book. I promise it's completely plausible and acceptable. Early on in the book you'll find yourself rooting for a these two to see through the blinders of who they are to each other versus how they feel for each other. From the moment Portia heads off to college, your heart will be beating double time.
The story is delivered from both of their perspectives which is always my favorite. It just amps up the emotional tie to the characters. I loved them equally but I felt a certain tenderness to Jude. Jude knows what he feels, what he wants and is passionate about it. He's got a backstory that explains his intensity – he's loved and lost and life is simply too short. But he is a teenage boy battling typical hormonal surges and he makes some understandable mistakes. I found myself feeling protective of Jude and I love the young man he grew into.
The older and slightly wiser Portia is a little slower to admit to her feelings which makes for some great angst. She's always pretty clear about what she needs she just doesn't always go about it with the best sense. Her feelings run deep but she see's the writing on the wall:
"Nothing good could ever come out of me exploring anything with Jude or acknowledging just what that single kiss had done to me emotionally and physically. Mentally, I slammed the door shut and refused to keep the key."
She experiences some tough college moments but finds a great group of friends. But facing her feelings for Jude is really the least of her worries – They will test each other's resolve and devotion. and it feels like it will take a miracle to bring them together.
This story has an emotional depth that will keep you enthralled as you root for the stars to align, for Jude and Portia to find their ways through their beginning, rely on their friendship, and build a love story. I was captured from the very opening pages down the final lines of the book which begins with this beautiful and poetic musing " Our family tree might have started off with different roots, but over the years our trunks had grown together until the branches now wove an artistic tapestry of love."
~Review by Cyndi

Giveaway
$15 Amazon Gift Card & Signed Paperback of Family Ties
Direct Link: http://www.rafflecopter.com/rafl/display/b1257f8d329/?

---
---
About the Author
Bestselling author, Stephie Walls is a lover of words—the more poetic the better. She lives on the outskirts of Greenville, South Carolina in her own veritable zoo with two dogs, three cats, the Mister, and Magoo (in no preferential order). She would thrive on coffee, books, and Charlie Hunnam if it were possible, but since it's not, add in some Chinese food or sushi and she's one happy girl.
Connect with Stephie
Newsletter Sign Up: http://bit.ly/2rwxvkc
Facebook Author Page: http://bit.ly/2sysMyC
Facebook Reader Group: http://bit.ly/2sF1DJI
Goodreads Author Page: http://bit.ly/2sgQ7C1
Twitter: http://bit.ly/2tsFRFV
Instagram: http://bit.ly/2rBNNDi
Amazon Author Page: http://amzn.to/2rBGmfq
BookBub Author Page: http://bit.ly/2xrnqnN