Tied

by Carian Cole
Series: Devils Wolves #2
on June 24th, 2017
Genres: Contemporary Romance
Buy on Amazon
Goodreads


I received this book for free from in exchange for an honest review. This does not affect my opinion of the book or the content of my review.
He was the myth and the legend of our small town. But no one knew the truth... except me.
 
Me

My childhood was stolen by a monster. I've forgotten what love feels like. What happiness feels like. What hope feels like. I am numb.
 
Him

He's possibly as damaged as I am. Maybe even more. Scarred just as much on the inside as the outside. Just like me. He doesn't speak. He doesn't smile. He hides in the woods like an animal.  I should be scared of him. But I'm not.

He's the only one that has ever made me feel. And I want to make him feel, too. Everything...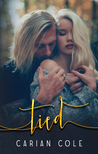 Tied by Carian Cole
My rating: 5 of 5 stars
I'm a fairly new reader of Carian Cole's but she has swiftly escalated into being a story teller that I believe to be #oneclick worthy. I loved Torn for it's age gap "forbidden" love and soul mates elements, and Tied I love for the complexity of the "damaged" hero and heroine, and the message of hope. What's more is that Cole's prose makes the characters come alive.
Tyler and Holly have one of the most unsuspecting love stories. As individuals you wonder how Holly could find the ability to trust and for Tyler to find salvation. What strikes me most is that Tyler is EXACTLY the kind of man for Holly. His own battle scars give him an awareness and sensitivity to her past and the trauma she's experienced, a trauma that is unimaginable and that Cole conveys without too much detail. We get enough to help us understand Holly and not with the purpose of making the reader too uncomfortable.
There's something so magical about Tyler and Holly. They are endearing as soul mates and I wanted to wrap my arms around them both. I really can't recommend this story enough. I found myself giggling at Holly's observation about Tyler, weeping for all that the two have been through, and joy-filled as they find a future in each other. It's simply a wonderfully romantic love story and another great book by Carian Cole!
~Review by Cyndi 
Free in Kindle Unlimited
I have a passion for the bad boys, those covered in tattoos, sexy smirks, ripped jeans, fast cars, motorcycles and of course, the sweet girls that try to tame them and win their hearts. My debut series, Ashes & Embers, follows the lives of rock band members as they find, and sometimes lose, the loves of their lives.
Born and raised a Jersey girl, I now reside in beautiful New Hampshire with my husband and our multitude of furry pets and spend most of my time writing, reading, and vacuuming.