Down Shift (Driven, #8)

by K. Bromberg
Series: Driven #8
Published by Signet on October 11th 2016
Genres: Contemporary Romance
Pages: 400
Buy on Amazon
Goodreads


I received this book for free from in exchange for an honest review. This does not affect my opinion of the book or the content of my review.
Behind the wheel, racing champion Zander Donavan is at the top of his game. But after too much excess in his personal life, heÔÇÖs forced to step away. He needs to accomplish something all on his ownÔÇöoutside of his famous fatherÔÇÖs shadow.

Getty Caster is running away from the abuse that clouds her past. She thinks sheÔÇÖs found the perfect escapeÔÇöuntil she discovers a stranger in the beachside cottage sheÔÇÖd been promised. HeÔÇÖs undeniably sexy, but sheÔÇÖs there to heal. Alone.

Before long though, fighting with each other turns into fighting their attraction. And giving into desire sets off a chain reaction that has their pasts colliding. With an unexpected love on the line, can they overcome the fallout to build a future?
The New York Times bestselling Driven series continues with a story about finding love where you least expect it…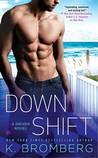 Down Shift by K. Bromberg
My rating:  4.5 of 5 stars
Years ago when I read the first 3 books in the Driven series I didnÔÇÖt dare to dream that one day we would get a story all focused on Zander. That little seven year old impacted so much of Colton and RyleeÔÇÖs story and IÔÇÖm so happy heÔÇÖs all grown up and we get time with him.
Twenty years on and we find that Zander followed Colton into the car racing profession. But, we see very little of that in this story as when the story opens, Zander is in full meltdown mode. With this, he finds himself in an island town in the Northwest and with a roommate of sorts, a young woman in hiding, Gertrude ÔÇ£GettyÔÇØ Caster.
This is where all the fun and the drama comes in. Zander and Getty have the most memorable of introductions (fun), but the situation leads them to a conflict (drama) and a seemingly endless repair list to be managed. I love, love, love watching these two build their connection. ItÔÇÖs flirtatious at times & frustrating at times. They challenge each other & support each other in ways either has experienced before. Bromberg showcases this with Zanders panty melting sexiness and ability to make Getty understand that she is indeed incredibly passionate – sheÔÇÖs just been with the wrong partner.
Their relationship is complicated by her ex and her father. Getty experiences her demons via flashbacks and then some. SheÔÇÖs suffered complex emotional abuse and more. Zander is truly a shining light in her life. He stands up for her and incites her to be brave, instill some confidence in her, and encourages her to embrace change, and well, him (and socks). For GettyÔÇÖs part, she provides Zander with a safe and unbiased sounding board and encourages Zander to give himself a break and to face down his fears.
What's not surprising is the chemistry and just how sexy K. Bromberg writes their ÔÇ£affectionÔÇØconnection. As with all things K. Bromberg, she fills the story with the best metaphors, euphemisms, and incredible dialogue. The story is well paced and itÔÇÖs one of those reads that you wonÔÇÖt want to set aside for longer than a few hours. 4.5 #JustJump Stars and recommendation!
~ Review by Cyndi
NOW AVAILABLE
Amazon US | Amazon UK |  iBooks | Nook | Kobo 
---
Teasers
---